Damp Proofing
Get rid of all damp issues on your property with our Damp Proofing services.
There is natural moisture surrounding most structures which can easily get into the walls. Most Common building materials; like brick and stone, are naturally porous and soak up moisture which can lead to rising damp in your home.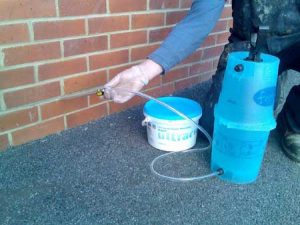 It works by drilling small holes along the mortar course of your external wall. We then inject a silicon type material externally into the wall, it then fills the porous brick work and gaps in between the external and internal of your home with a layer of the material, disabling the chances of rising damp and damage to your home.
We can offer customers a free survey to assess any damp issues they could have, caused from rising damp or penetrating damp. We offer a solution through tanking or chemical damp roof membrane, to combat rising damp and future damp issues.
GET YOUR FREE, NO OBLIGATION QUOTE 
Wall Tie Replacement
The tie in a cavity wall is used to hold the internal and external walls, constructed of bricks or cement blocks together. It is placed in the cavity wall during construction and spans the cavity.
Wall ties corrode due to rising damp and also due to the being un-galvanized. They expand, pushing the brick apart, which causes horizontal cracking to walls.
We can investigate to establish corrosion. if this is the cause, we can remove or isolate existing ties to prevent further cracking and fix new stainless steel ties in accordance with current legislation.
GET YOUR FREE, NO OBLIGATION QUOTE